"SUPER LAWYERS" "BEST LAWYERS" "BEST LAW FIRM"
We have a diverse, multi-jurisdiction trial-focused practice in the areas of:
Complex business litigation
Securities litigation
Intellectual property: patent (litigation), copyright, trademark, and trade secrets
Antitrust
Business and nonprofit corporations
Real estate litigation
Public utilities
Condemnation
Oppression of minority shareholders
Accounting malpractice
ERISA litigation
Our Lawyers
The Firm's partners have practiced together for more than 30 years, and have the highest rating attainable from Martindale-Hubbell ("AV Preeminent"). All three are Oregon "Super Lawyers" and "Best Lawyers", and the Firm is rated a Tier 1 Best Law Firm. The Firm's practice is sophisticated and varied, and based almost entirely on referrals from other clients and attorneys. The Firm has been involved in an unusual number of reported cases, which reflect its multi-faceted practice.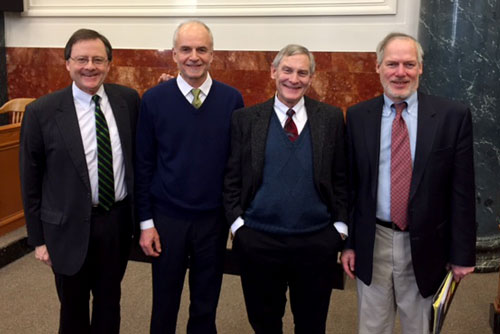 Recent News & Highlights
March 2016: ES&B obtains federal trademark registrations for award-winning chef David Machado's celebrated restaurants NEL CENTRO and ALTABIRA. Gary Hardiman did much of the work for us and has helped register a number of restaurant names including Jeremiah Tower's famous STRS and Bradley Ogden's FUNKY CHICKEN.
Mike Esler mentioned in 2/3/16 front page article in The Oregonian "Investors fear their savings gone to pot," about new case we are working on (with others) involving losses at Iris Capital.
Fall 2015: Mike, John and Gary obtained a seven figure settlement of a FINRA arbitration on behalf of a retired doctor whose broker repeatedly placed him in Pro Shares' "geared" and "leveraged and inverse funds." These types of exchange traded funds (ETFs) are designed to deliver one, two, three, or four times the inverse of the daily result of a particular index like the Dow or S&P 500, and they must be bought and sold on an almost daily basis to have their intended effect. If the market index goes down, the investment goes up. If the market goes up, the investment goes down. They are widely misunderstood. As a significant part of any individual investor's holdings, especially older investors, we believe they are completely unsuitable. Be wary if your broker is pitching these funds.
Mike Esler is key witness for Federal prosecutors at sentencing hearing of Sunwest's former CEO Jon Harder. Harder's plea bargain provided for a range of 5 to 15 years and he received the maximum—15 years. Read The Oregonian's article. Read Mike's testimony transcript.
John Stephens was named Chair of the US District Court of Oregon Local Rules Advisory Committee. John has served on the Committee in various capacities for 15 years.
John Stephens' service as coach helps Grant High School's Constitution Team win first place in the 'We the People' national competition in Washington, D.C.
Kim Buckley and (now Justice) Meagan Flynn (then of Preston, Bunnell & Flynn) successfully defended ES&B's trial court victory in appeal and cross-appeal of judgment in favor of our client, a distinguished law firm, against a former partner. The issues concerned the terms of their partnership agreement and allocation of assets between the firm and its former partner. Read more about the case.
Gary Hardiman's Comment Letter was cited 4 times by the SEC in its February 26,2015 Order Approving a Proposed Rule Change Relating to the Revisions to the Definitions of Non-Public Arbitrator and Public Arbitrator. Gary, a FINRA arbitrator, wrote in opposition to a rule change that would place professionals who spend 20% or more of their time advocating on behalf of investors in the "Non-Public" arbitrator category, urging that they remain "Public" arbitrators. Unfortunately, we think, for investors, the SEC approved the change.
Kim Buckley served as a judge in the National Black Law Students Association 2015 National Moot Court competition.