Coronavirus Update: The continuing Coronavirus pandemic has altered work habits for just about everybody, including those of us at Esler Stephens & Buckley. We have begun spending more time back in our downtown Portland offices, and we continue to regularly communicate with each other, our clients and the courts. Civil jury trials have recommenced, albeit with a large backlog, and other aspects of our litigation practice are proceeding normally. Some court hearings have begun to be held "live" once again and it feels good to be back in a physical courtroom. Others are still being held via Zoom or conference calls as we all keep a wary eye on new variants. Obviously legal problems have not gone away for people and businesses and we hope no one is deterred from seeking legal advice when they need it.
"SUPER LAWYERS" "BEST LAWYERS" "BEST LAW FIRM"
We have a diverse, multi-jurisdiction trial-focused practice in the areas of
Complex business litigation
Securities litigation
Intellectual property: patent (litigation), copyright, trademark, and trade secrets
Antitrust
Business and nonprofit corporations
Real estate litigation
Public utilities
Condemnation
Oppression of minority shareholders
Accounting malpractice
ERISA litigation
Our Lawyers
The Firm's partners have practiced together for more than 30 years, and have the highest rating attainable from Martindale-Hubbell ("AV Preeminent"). All three are Oregon "Super Lawyers" and "Best Lawyers", and the Firm is rated a Tier 1 Best Law Firm. Mike and John are 2018 Benchmark "Litigation Stars" as well. The Firm's practice is sophisticated and varied, and based almost entirely on referrals from other clients and attorneys. The Firm has been involved in an unusual number of reported cases, which reflect its multi-faceted practice.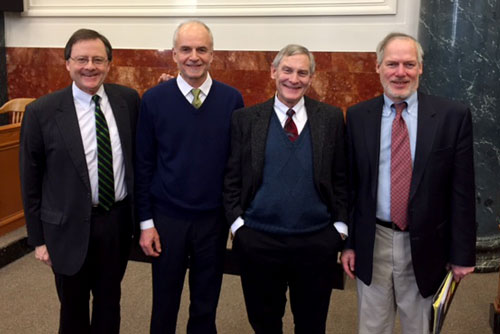 Recent News & Highlights
May 2022: ES&B is pleased to recognize our paralegal Christine Ortez's completion of the NALA Certified Paralegal exam. Christine has now attained the designation Certified Paralegal (CP). She is one of just 20,000 paralegals nationwide to have achieved this status which reflects a comprehensive knowledge of numerous legal topics along with writing and critical thinking skills. Christine has a Bachelor's Degree from PSU in Art Practices and has been with us for 18 years.
January 2022: ES&B congratulates its former Office Assistant, Maria Hardiman, on her new role as Communications Director for Attorney General Maura Healey's campaign for Governor of Massachusetts. Maria previously served as Director of Digital Communications and Strategy for the Massachusetts Attorney General's Office and is a graduate of Boston University.
September 2021: ES&B obtains $1.6 million award in American Arbitration Association arbitration against a helicopter manufacturer who failed to pay commissions owed to our client. The award included attorney fees, a statutory penalty and interest.
January 2021: Mike Esler is quoted in this Oregonian article on the commutation by outgoing President Trump of the 15 year sentence of convicted fraudster Jon Harder to the 5 years served, calling it a "travesty of justice." Harder was head of the Sunwest assisted living empire that collapsed in 2012 leaving investors out over $300 million. ES&B represented some 300 investors and helped recover much of their losses from lawyers, accountants, brokers and others who helped prop up the enterprise. The Federal court awarded ES&B an enhanced fee for excellence.
November 2020: American Eagle Class Action website goes live.  For more information on the action we are handling for Oregon investors in Vancouver-based American Equities/American Eagle you can now visit a special website: www.americaneagleclassaction.com
October 2020: The Oregonian reports on continued excellent recovery in the Aequitas litigation in which our firm represented some 135 investors who opted out of the Class Action concerning Aequitas' collapse.
July 2020: Michael Esler is quoted in an article from The Oregonian on the class action lawsuit we are handling on behalf of Oregon investors in American Equities/American Eagle.
March 2020: Michael Esler quoted in article from The Columbian newspaper on class action lawsuit we and our colleagues at Larkins Vacura Kayser are handling on behalf of Oregon investors in the Vancouver-based American Equities Inc. collapse. American Equities and its affiliate American Eagle sold interests in mortgage pools that became insolvent and were placed into Receivership in 2019. American Equities' liabilities exceeded their assets by about $43 million. Upon preliminary investigation it appears the principals were operating a Ponzi Scheme.
July 2018: Mike Esler is quoted in an article in The Oregonian on a recent successful settlement with our group of Aequitas investors with the Tonkon Torp law firm in Portland, which will contribute $18.5 million to investors who lost their money in the Aequitas Ponzi scheme. This money constitutes virtually all of that firm's insurance policy proceeds. We continue to work on claims filed against other professionals who provided aid to the Aequitas Ponzi scheme. 
July 2018: ES&B concludes successful settlement of FINRA arbitration against a New York City brokerage involving churning. Churning is the excessive buying and selling of securities in a portfolio designed primarily to pad the pocket of the broker with commissions and not generate successful returns for the investor. If you think your broker is doing too much buying and selling or is not responding to your interest in understanding what is going on, you should talk to an experienced securities attorney to determine if you have a legal claim.
June 2018: ES&B successfully settles FINRA arbitration over sale of highly unsuitable L-share variable annuities by a major Northwest regional broker. Variable annuities are expensive investment products that include elements of life insurance and are difficult for most people to understand. L-Share variable annuities are usually even more unsuitable given their higher fees and short-term surrender periods. They are particularly unwise for high net worth individuals. If you have any doubts about your purchase of a variable annuity you should talk to an experienced securities attorney.
August 2017: ES&B co-counseled with trial attorneys Cody Hoesly and Bridget Donegan (from Larkins Vacura Kayser) and helped obtain $1,000,000 jury verdict for our business broker client after a company he helped sell failed to pay him.
January 2017: ES&B successfully wraps up settlements totaling almost $18,000,000 in the Berjac securities fraud case. As a part of that work, ES&B assisted the related bankruptcy trustee and its counsel in obtaining $7,000,000 in settlement funds for investors. This result meant that investors received back about half of what they lost, an unusually high amount in cases like these where the issuer files for bankruptcy. The judge on the case said that "all the legal work done on the case was extraordinary and helped contribute both to a just result as well as to a very fair and rational and efficient way of getting us there."
April 2016: John Stephens and Mike Esler appointed Special Attorneys General by the Oregon DOJ to help prosecute Unlawful Trade Practices claims against General Nutrition Center and later, Vitamin Shoppe.
March 2016: ES&B obtains federal trademark registrations for award-winning chef David Machado's celebrated restaurants NEL CENTRO and ALTABIRA. Gary Hardiman did much of the work for us and has helped register a number of restaurant names including Jeremiah Tower's famous STRS and Bradley Ogden's FUNKY CHICKEN.
February 2016: Mike Esler mentioned in front page article in The Oregonian "Investors fear their savings gone to pot," about new case we are working on (with others) involving losses at Iris Capital.
Fall 2015: Mike, John and Gary obtained a seven figure settlement of a FINRA arbitration on behalf of a retired doctor whose broker repeatedly placed him in Pro Shares' "geared" and "leveraged and inverse funds." These types of exchange traded funds (ETFs) are designed to deliver one, two, three, or four times the inverse of the daily result of a particular index like the Dow or S&P 500, and they must be bought and sold on an almost daily basis to have their intended effect. If the market index goes down, the investment goes up. If the market goes up, the investment goes down. They are widely misunderstood. As a significant part of any individual investor's holdings, especially older investors, we believe they are completely unsuitable. Be wary if your broker is pitching these funds.
November 2015: Mike Esler is key witness for Federal prosecutors at sentencing hearing of Sunwest's former CEO Jon Harder. Harder's plea bargain provided for a range of 5 to 15 years and he received the maximum—15 years. Read The Oregonian's article. Read Mike's testimony transcript.
July 2015: John Stephens was named Chair of the US District Court of Oregon Local Rules Advisory Committee. John has served on the Committee in various capacities for 15 years.
April 2015: John Stephens' service as coach helps Grant High School's Constitution Team win first place in the 'We the People' national competition in Washington, D.C.
April 2015: Kim Buckley and (now Justice) Meagan Flynn (then of Preston, Bunnell & Flynn) successfully defended ES&B's trial court victory in appeal and cross-appeal of judgment in favor of our client, a distinguished law firm, against a former partner. The issues concerned the terms of their partnership agreement and allocation of assets between the firm and its former partner. Read more about the case.
February 2015: Gary Hardiman's Comment Letter was cited 4 times by the SEC in its Order Approving a Proposed Rule Change Relating to the Revisions to the Definitions of Non-Public Arbitrator and Public Arbitrator. Gary, a FINRA arbitrator, wrote in opposition to a rule change that would place professionals who spend 20% or more of their time advocating on behalf of investors in the "Non-Public" arbitrator category, urging that they remain "Public" arbitrators. Unfortunately, we think, for investors, the SEC approved the change.
Kim Buckley served as a judge in the National Black Law Students Association 2015 National Moot Court competition.